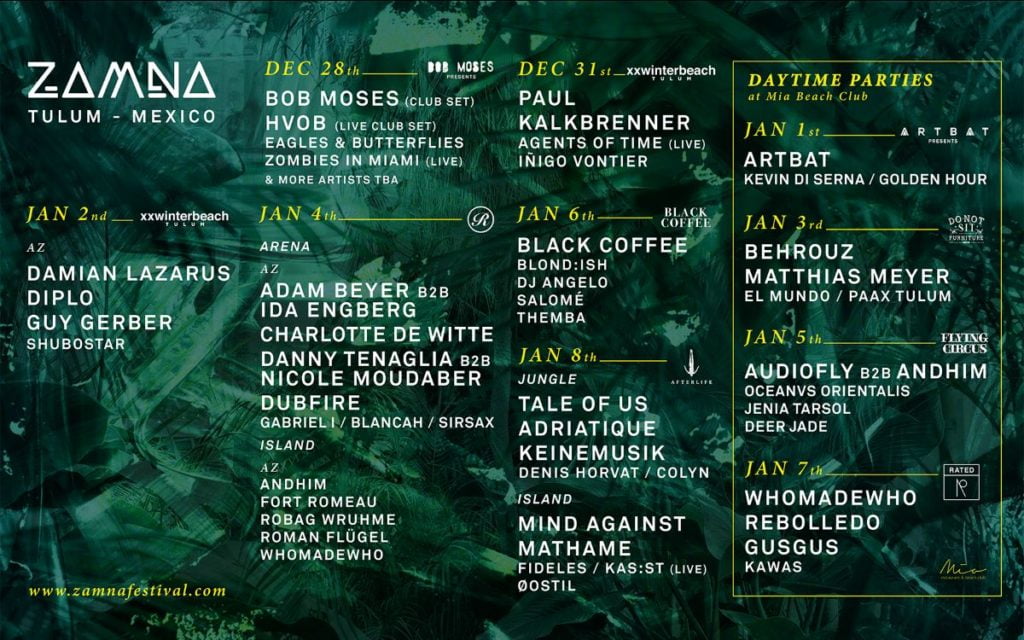 The countdown has begun. Zamna Festival will open its doors of its new edition in a few hours, the most ambitious so far. Numbers don't lie, 10 unique events in which 50 international artists will participate on 4 different stages between 28th of December and 8th of January; and all of that under the unrivalled setting of Tulum, one of the most idyllic places in the American continent.

Sale success
Ticket sales have been great from the very start, showing the big generated expectation. Some of the Zamna Festival events reached "sold out" quickly such as ARTBAT's first gig in Mexico, meanwhile others are close to selling out too. It is expected that Zamna Festival 2020 will reunite the biggest audience so far.
New Year's Eve with Paul Kalkbrenner
XX Winter Beach brand is in charge of the last night of the year in Zamna with the performance of the German Legend Paul Kalkbrenner, in a unique event. He will be accompanied by Agents Of Time, Iñigo Vontier and a surprise guest. Besides this, XX Winter Beach will be also responsible of January 2nd's line-up with an unprecedented B2B between Guy Gerber and Damian Lazarus with the surprising performance of Diplo.
Techno with Renaissance
The most iconic club in the English electronic music scene presents the best techno line-up that has ever been seen in Tulum. It will be on Saturday, 4th of January with Adam Beyer B2B Ida Engberg, Danny Tennaglia B2B Nicole Moudaber, Charlotte de Witte, Dubfire, Andhim, Fort Romeau, Robag Wruhme, Roman Flügel and WhoMadeWho.
Black Coffee: the African sounds arrive to Tulum
Black Coffee, who is one of the most influential DJs and producers of the last years, has been in charge of defining every last detail of his own event's line-up. Black Coffee, Blond:ish, Salomé and the combination show between Themba and Dj Angelo. Without anyhesitation, one of the most special nights in Zamna Festival that will end with a B2B between the 5 artists.
Sun and beach in Mía Beach Club
Zamna Festival presents a new location on the beach, the renowned beach club Mía. 5 parties will be celebrated there including ARTBAT, Do Not Sit In Tulum, Flying Circus, Rated R Hosted by Rebolledo and Bob Moses presents Innercity Odyssey.
Afterlife: the most expected closing
Zamna Festival's queen party will be the perfect closing of this edition, the most expected end. Tale Of Us, Adriatique, Keinemusik, Mind Against, Mathame, Denis Horvat, Colyn, Fideles, Kas:st and Øostil.
Zamna Festival seems to be a big success again, consecrating itself as the perfect place to celebrate the year's end and beginning of the new year with electronic music in a dreamy place.
Schedule and locations:
Bob Moses presents Innercity Odyssey (Mía Beach Club), Saturday 28th of December from 14:00 to close
XX Winter Beach (Zamna Tulum), Tuesday 31st of December from 22:00 to close
ARTBAT (Mía Beach Club), Wednesday 1st of January from 14:00 to close
XX Winter Beach (Zamna Tulum), Thursday 2nd of January from 22:00 to close
Do Not Sit (Mía Beach Club), Friday 3rd of January from 14:00 to close
Renaissance (Zamna Tulum), Saturday 4th of January from 18:0 to close
Flying Circus (Mía Beach Club), Sunday 5th of January from 14:00 to close
Black Coffee (Zamna Tulum), Monday 6th of January from 22:00 to close
Rated R hosted by Rebolledo (Mía Beach Club), Tuesday 7th of January from 14:00 to close
Afterlife (Zamna Tulum), Wednesday 8th of January from 22:00 to close